Continuos spirals type R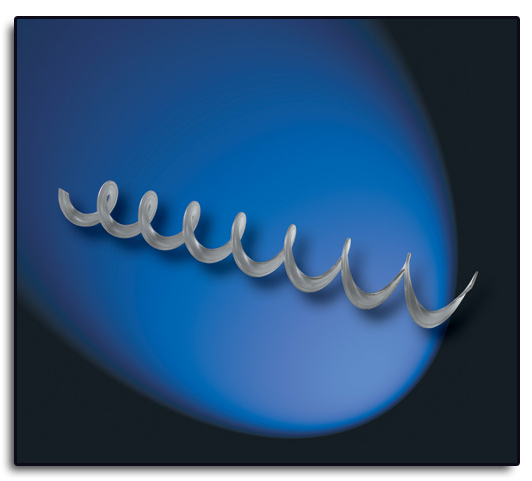 The "R" spiral represents the most economical and functional transportation system
It is the ideal solution for transporting large quantities in the shortest possible time
BERTUZZO produces a wide range of CONTINUOUS SPIRALS  "R" type, made of carbon, stainless and Corten steels, with minimum thickness of 3 mm up to 8 mm maximum, with minimum outer diameter of 800 mm up to 400 mm maximum
BERTUZZO has accumulated 50 years' experience in the production of continuous spirals type "R", giving the product a remarkable quality and dimensional accuracy, thus reducing the time of installation of the continuous spiral tube
We have a wide range of continuous spirals "R" type in stock ready for delivery.
MATERIALS USED
Normal steel S235JR e S355JR.
Stainless steel Aisi 304.
Corten steel
The spiral type " R" finds application in various agricultural and industrial activities, such as:
 Concrete-Mixing Plant (mixers, screw conveyors)
Earthmoving (augers, helical rods)
Animal husbandry (silos, extractors, dryers)
Agricultural machinery (manure spreaders, cutter-mixer wagons, platforms, heads, tanks, salt trucks, snow blowers, balers)
Milling industry (mixers, kneads, flour dusters)
Oenology (crushers, crusher-destemmers, destemmers)
Oil industry (washing machines, crushers, kneads)
Dairy industry (stretching machines, ice cream machines, choppers)
Packing (bagging)
Machine tools (lathes, milling machines, machining centers)
Foundry
CHARACTERISTICS
Tapered blade section.
Accuracy in dimensions.
Standard lenght of bars: 3 meters.
Different lengths available upon request.
OUTER DIMENSIONS OF SPIRAL
D
80
90
100
110
120
130
140
150
160
180
200
210
220
230
240
250
280
300
315
350
400
S
from 3 to 8 mm
D = outer diameter S = thickness